The primary objective of MPCT is always the safety and well-being of its Learners. It's vision has always been about supporting and developing young people to achieve their goals and aspirations. We accomplish this through a combination of study and military based physical activities.
To ensure that they do this in a safe and secure environment MPCT has invested significantly in the safeguarding of its Learners and has robust and detailed processes to ensure that we protect the Learners under our care.
We do this by ensuring that all our staff are sufficiently trained to deal with any safeguarding concern that may arise. They are supported by dedicated safeguarding leads in all areas and co-ordinated nationally by a Lead Safeguarding Officer.
MPCT fosters close working relationships with Local Authority Social Services to ensure that we provide a contextual safeguarding service that extends beyond the boundaries of the local college.
We engender a culture of openness and transparency encouraging all Learners to engage fully with MPCT staff, giving them the confidence to disclose any concerns they may have. All disclosures made by Learners are always taken seriously and given the appropriate attention to ensure that they are always kept safe.
MPCT also has processes to allow safeguarding concerns to be reported via alternative routes when the referrer may not have the confidence to speak directly to an Instructor. These will include:
Dedicated safeguarding email keepmesafe@mpct.co.uk
Dedicated Safeguarding line with voicemail 02921 675537
The person responsible for overall safeguarding for MPCT is the Lead Safeguarding Officer (LSO) Richard Erskine and he will pick up the concerns from these forms of communication. The LSO is independent from the colleges and will take personal responsibility if there are any direct concerns made against an instructor or other member of MPCT. Richard is a retired Police Officer with over 30 years of experience in the service. He has considerable experience working within the safeguarding environment, and managed, developed and implemented the first Welsh Multi-Agency Safeguarding Hub (MASH) which has also incorporated the transition to the legal requirements under the Social Services and Wellbeing Act.
Safeguarding concerns can also be reported anonymously via any of the national charities. MPCT is committed to work in partnership with these organisations to ensure all concerns are dealt with appropriately.
Childline: 0800 1111 www.childline.org.uk
NSPCC: 0808 800 5000 www.NSPCC.org.uk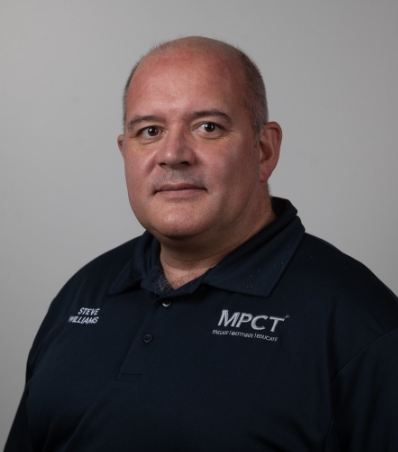 STEVE WILLIAMS
Director of Risk Management
ONLINE SAFETY
At MPCT we always try to ensure that our staff and students are aware of the risks they face in the online community, especially on social media websites.
That's why we are actively encouraging parents to get involved and help us at home to achieve this objective by being aware and informed about social media sites and how their sons and daughter use them.
You can visit these websites for more information on e-safety or directly report abuse by clicking on the CEOP report abuse button.
COMPLAINTS
MPCT is committed to dealing effectively with complaints. We aim to clarify any issues about which you are not sure.
If possible we will put right any mistakes we have made and we will apologise. We aim to learn from mistakes and use that experience to improve what we do.
Please see below for our Complaints Policy.